Even if the 2010 fall television schedule have not had any break-out hits, I must say that FOX's
Raising
Hope
and CBS'
$#*! My Dad Says
is by far the best new comedies of the fall season. Why are these comedies the best out of all the new series? I would have to say it's because they are all about dysfunctional families. While they may be dysfunctional, it showcases how they are still a family, and will do anything for one another.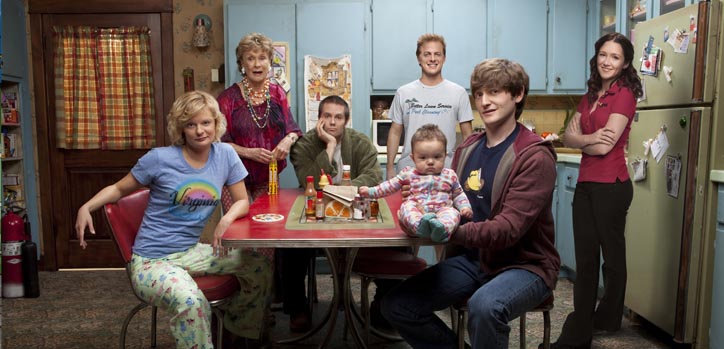 Photo Credit: FOX Television Network

Raising
Hope
is a family comedy from the mind of
My Name Is Earl
creator Greg Garica. So, you already know that it is going to be off the wall. Jimmy Chance is a 23-year-old who life's is going nowhere. But, Jimmy's life takes a drastic turn after a one night stand with Lucy: a wanted felon. Months later, Jimmy visits Lucy in prison, where he discovers that she has given birth to a baby daughter. When Jimmy brings home his daughter, his family is less than happy about the new addition to the family.
What I like most about the series is that, while the family has its problem, their hearts are always in the right place.
Raising Hope
was the first series of the season to be picked up for a full season. The series stars Lucas Neff, Garret Dillahunt, Martha Plimpton, Shannon Woodward, and Cloris Leachman. This is one comedy that will have you laughing out loud throughout the entire episode.
Raising Hope
airs Tuesday nights at 8 p.m. on FOX.

Photo Credit: Warner Bros. Television

My other favorite new series of the fall season is $#*! My Dad Says. I almost missed out on this hilarious new series because I not a fan of William Shatner. But, being a fan of Nicole Sullivan (Rita Rocks), I had to tune it. From the moment I watched the first episode, I knew I was hooked. The series is from the minds behind Will & Grace, David Kohan and Max Mutchnick, and based on the popular Twitter feed by Justin Halpern.
Shatner plays Ed Goodson, a 72-year-old divorced (three times) father of two adult sons, Henry and Vince. Ed is not your typically father or 72-year-old. Ed is a forthright and opinionated person, who has no problem expressing his unsolicited and wildly politically incorrect observations to just about anyone who will listen to him.
While Ed like to pretend he does not have a soft spot in him, he shows it when he agrees to let his son, Henry, move back home after he loses his job and cannot pay his rent. But, he never lets him forget that he is a freeloader. The series stars William Shatner, Jonathan Sadowski, Will Sasso and Nicole Sullivan.
$#*! My Dad Says
airs Thursday nights at 7:30 p.m. on CBS.
These two comedies have something that other comedies on television lack. They are actually funny. If there is one thing that can be agreed upon, it is that dysfunction is the new normal when it comes to a television family.
Written by: Aaron Wallis